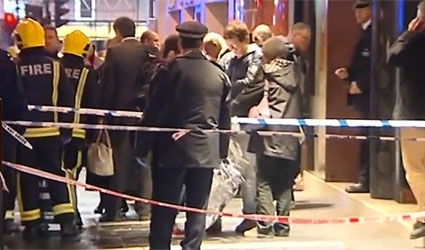 SEVENTY-SIX people were injured when part of a ceiling in London's Apollo Theatre collapsed during a show. The theatre in Shaftesbury Avenue was packed for a performance of 'The Curious Incident of the Dog in the Night-Time' and at least 700 people were evacuated.
Eyewitnesses heard "a crackling" noise before the ornate plasterwork ceiling collapsed at around 8.15pm local time, bringing down part of a lighting rig and taking balconies with it.
Fifty-eight people were taken to hospital but there were no life-threatening injuries, although seven were reportedly more serious than the rest. The majority had cuts and bruises, and a small number had fractures.
The owner of the Apollo described it as a "shocking and upsetting" incident and said an investigation was underway to establish why the ceiling had collapsed.