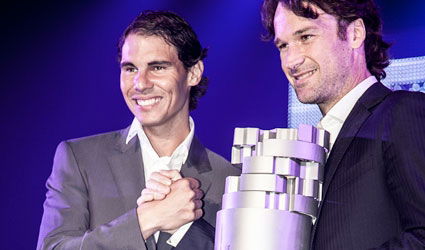 THE island of Mallorca was beside itself with excitement on Saturday when tennis superstars Rafa Nadal and Carlos Moyá came home.
The two sports heroes attended a huge event at the Son Amar theatre in Palmanyola where they were entertained by the performers and entertainers of the world class show. The top tennis stars were guests of the Royal Spanish Tennis Federation for the Balearic Tennis Gala.
Carlos was given the lifetime achievement Juan Antonio Samaranch award to recognise his sporting successes.
Current world number one and fellow Mallorcan Rafael Nadal attended to pay tribute to his friend and colleague alongside many other luminaries from the sport.  Margaret Whittaker OBE, owner of Son Amar, said she was extremely proud that Son Amar had been the venue for the spectacular event, "We've got the very best of Mallorca all in one place! How wonderful is that!"