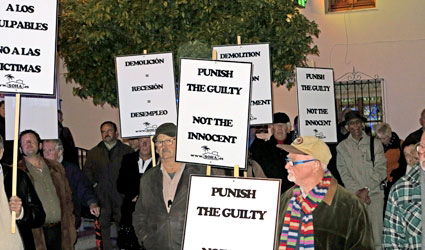 MORE than 100 people, many of them expatriates, took to the streets to demonstrate against a move which they fear could lead to 17 homes being demolished.
An anonymous complaint has led Alcaucin Town Council to revoke the permits of 17 houses built on non-urban land between 1997 and 2004. 
It did so during a meeting held on Tuesday evening and at the request of the Directorate General of Land Planning.
The regional government body received an anonymous report complaining about these houses.  Alcaucin Mayor Domingo Lozano explained the council was only complying with the regional government's request.
"I'm against this measure because it's an atrocity," he added.
"It's surreal. These people bought their houses in good faith, they spent all their savings and some of them have been living here for 20 years," said Councillor Elena Fernandez.
Some hundred people, most of them expatriates, demonstrated in front of the town hall to protest against this measure that could eventually lead to the demolition of the houses.
They were summoned by Save Our Homes in Axarquia (SOHA), an organisation set up in 2008 to save homes facing a similar situation.
According to SOHA, this is the result of the lack of intelligence by the regional government (Junta de Andalucia) to propose viable solutions to the urban planning chaos that has developed in the last decade.
"The Junta has the law by its side. We have justice," said SOHA President Philip Smalley, speaking to Malaga Hoy. Recently two homes in Cantoria, Almeria were demolished on the Junta's orders despite having