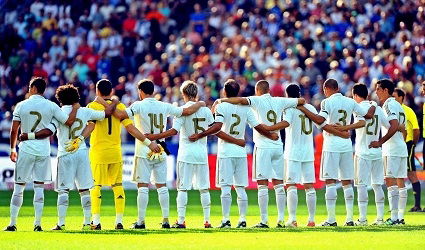 SEVEN Spanish football clubs are under investigation by the European Commission for financial discrepancies, including league champions Barcelona and Real Madrid.
The European Commission will be launching its investigation today (Wednesday) regarding whether the Spanish government has provided illegal State aid to the clubs. Jose Manuel Garcia Margallo, the Spanish Foreign Minister, has denied the allegations and said the government would "defend Spanish clubs because they are also part of the Spanish brand."
FC Barcelona, Real Madrid, Osasuna and Athletic Bilbao are said to have received unfair tax breaks; they are not listed as corporations, therefore they can receive special tax exemptions, similar to non-profit organisations. Valencia, Elche and Hercules are being looked at regarding loans and bank guarantees.
A complaint was initially lodged in 2009, when it was claimed that aid given to certain Spanish clubs could be up to several billion euros. It has been implied that the lack of action at the time could have been due to a Spanish Minister and Athletic Bilbao supporter, Joaquin Almunia, holding the position of EU Competition Commissioner at the time.
Emily O'Reilly, the Ombudsman, said:  "The Commission failed to act on this for more than four years. Not only is this bad administration, but to the public it can look like a conflict of interest, given the Commissioner's strong links to one of the football clubs."
To ensure fair competition, State aid is only allowed if it for general economic growth and development. It can take various forms, such as grants, tax relief, guarantees or provision of goods or services at special rates.
If the clubs are found guilty, they would have to repay the amount and possibly pay large fines as well. This would have a crippling effect on most of the teams and on Spanish football in general.