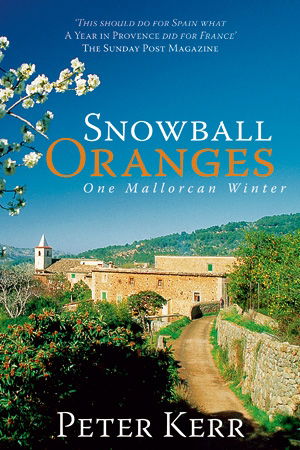 By Peter Kerr
Essentially humorous, at times hilarious, yet occasionally poignant, Snowball Oranges is the story of a 'normal' Scottish family who gave up the relative security of life in their native land to go and grow oranges for a living in a secluded valley in the mountains of the Mediterranean island of Mallorca.
And the freak snow storm which heralded their arrival on the finca of Ca's Mayoral was only the first and perhaps the least of many surprises to be faced and coped with before they could truly regard their new abode as home … if ever they could!  
No matter how rose-tinted their trusting aspirations, it wasn't long before they realised that they'd been sold a 'lemon' of an orange farm by the wily previous owners.
However, an oddball local chef with cats in his kitchen, and a few prickly-though-kindly old Mallorcan neighbours – including an eccentric goat herd who ate worm-ridden oranges to improve his sex life – gradually restored the immigrant family's faith in human nature and helped them adapt to their new and, at times, unexpectedly testing life in the apparently simple idyll of rural Spain.
Snowball Oranges is a story which will whet the appetite of many of the millions who visit Mallorca on holiday every year, and will stir the imagination of those who dream of what it would actually be like to uproot and go to live on this most beguiling of Mediterranean islands.