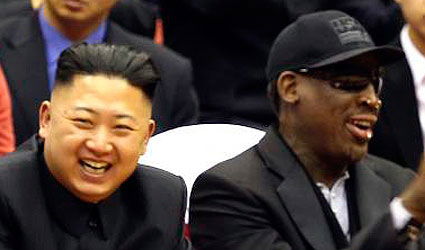 Former NBA star and "basketball diplomat" Dennis Rodman plans to return to North Korea, despite the execution of Kim Jong-Un's uncle Jang Song-Thaek.
Rodman has promised to work with North Korea's basketball ready for an exhibition game on January 8.
"Yes, I'm going to North Korea to train the basketball team," Rodman told the press. "I'm going to bring American players over there…  I'm going to be the most famous person in the world when you see American people holding hands and hoping the doors can be opened."
Kim Jong-Un, an NBA fan since his youth, welcomed Rodman and three members of the Harlem Globetrotters in Pyongyang last February.
The trip stirred controversy but led to an unlikely friendship between Kim and Rodman. Upon his return, Rodman described Kim as his "friend for life." This new visit will coincide with Kim's birthday.