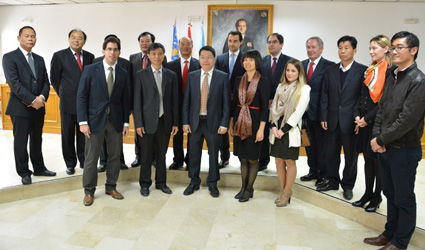 CHINESE delegates, including business representatives, cultural and social organisations from the city of Huizhou, have been in Torrevieja.
The group was headed by the Director of Foreign Affairs to Huizhou, Liu Qiaohui and follows an agreement signed between the city and Torrevieja in June to promote trade relations and a future alliance between the two cities and as a preview to their future twinning. 
The town of Huizhou, with more than 4 million people, is located in Guangdong Province and has similarities to Torrevieja with natural parks and tourism playing a major role in its economy.
In addition to the cultural and economic exchanges between the two cities plans for youth exchanges between schools are also intended. 
Torrevieja has nearly 1,000 registered citizens of Chinese origin with the China Cultural Association of Torrevieja and Spain being founded in 2007. 
The delegation visited Torrevieja ahead of carnival dance troupe La Sal de Torrevieja's trip to China where they took part in an international parade.