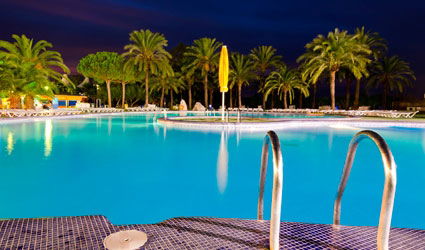 LUXURY tourism is the way forward for the Balearic Islands as the region has seen a big rise in the numbers of British visitors.
With up-market hotels recently opened and more on the drawing boards there is optimism that big-spending visitors. Now the Regional Government's Councillor for Tourism and Sports, Carlos Delgado, has expressed his optimism towards British tourism.  
He said the UK market is on an "upward trend" and "good" forecasts are in place for the Balearic Islands for next year.  Luxury tourism is largely to thank.
Daniel Chavarria Waschke, Managing Director of Balearics Sotheby's International Realty, agreed.  "Whilst other markets such as Greece, Egypt, Turkey, may have lowered their prices to attract more tourists, the Balearics have taken the bold decision to target the high end.
"Levels of quality, the calibre of hotel stock and prices have all gone in an upward direction and the plan has worked.  Comprising 26.16 per cent of the total Balearic tourist market, Brits have spent 8.5 per cent more in the Balearics in the first nine months of 2013 over last year and flight arrivals from the UK are also up 7.9 per cent to 3,046,681 for the same period."
Serious hotel operators are now in action on the Balearics.  Jumeirah chose Mallorca for its first foray into Spain opening the five star Jumeirah Port Soller Hotel & Spa in 2012.
Sheraton Mallorca Arabella Golf Hotel has just re-opened after a nine month €13 million refurbishment and the golf-front Park Hyatt Mallorca is set to open in 2015. They join existing five star establishments such as the St Regis Mardavall and La Residencia by Orient-Express. 
Across in Ibiza the upmarket Ushuaia Ibiza Beach Hotel opened in 2011 and the Ushuaia Tower this summer, joining such establishments as the five star boutique hotel Hacienda Na Xamena and Ibiza Gran Hotel and Casino in Ibiza Town.
Melia Hotels International, founded in Mallorca in 1956 and now with 350 hotels in more than 39 countries, has also announced grand plans for the Balearics.  Speaking this month at an event in ME London, a hotel within the ME by Melia premium range, Chief Executive Gabriel Escarrer said it would open ME Mallorca (formerly the Beach House on Calvia Beach Resort) and ME Ibiza (formerly Sol S'Argamassa in beachfront Santa Eulalia) for 2014.
Escarrer said: "We are reaffirming our commitment to the Balearic Islands, investing in the transformation of two products that will be drivers of change to enhance our position as a holiday destination of quality."