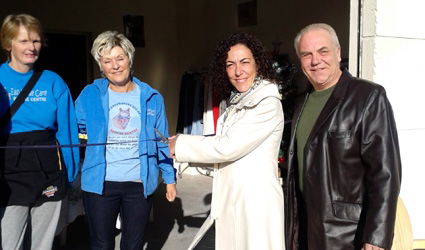 THE Easy Horse Care Rescue Centre's new 300 square metre charity shop and used furniture warehouse in Torrevieja is now open for business.
Performing the opening ceremony alongside co-founders of the Rojales rescue centre, Sue and Rod Weeding, was Rosario Martinez Chazzara, Torrevieja's Councillor for Education and Youth and Graham Knight from the OARI foreigner's office.
Situated in the Poligono Industrial Casa Grande complex close to the Aqua Park this is the charity's seventh shop and by far their largest to date. The premises will be used for the cleaning and renovation of donated furniture prior to being sold there and in the other six EHCRC charity shops across the southern Costa Blanca. 
Sue Weeding said: "By providing quality used furniture to the general public we are gaining valuable funds for the care of our 64 horses, donkeys and ponies in our Rojales rescue centre." She added: "I am so pleased and honoured that Rosario agreed to open our new shop and warehouse.
Through her involvement with disabled children in the area we will be working closely with Rosario in the near future to bring these children to our rescue centre in order that they can get close to our equines and interact with them. Being around horses is extremely therapeutic for people with disabilities."
If you have items of furniture that you can donate call Vicky Feest on 636 020 000 to arrange collection.