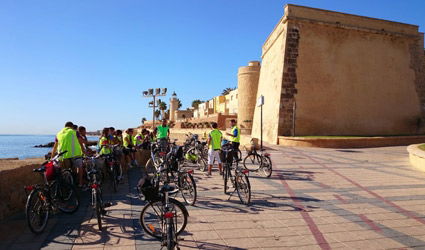 ENRUTADOS  the company  which specialises in guided tours by bike in Roquetas de Mar, has introduced new routes for the winter.
These include little known aspects of the town, even for many 'Roqueteros'. The company has been offering bike rides for the last year and a half with great success, especially among foreign customers, now it has added two routes  'livestock and agriculture' and 'marine and gourmet'.
The first route involves a comfortable bike ride that includes the coastal area of the town to the Santa Ana Castle, the port and the centre of the city, then on to a farm where guests can visit an artisan cheese factory to learn about the process of developing different types of cheese.
The farm has 1,500 goats which can also be seen on the tour, and there is the opportunity to visit a greenhouse and see how it functions. As for the marine and gourmet route, this offers a morning 'laden with sensations'. Leaving from Playa Serena, it follows the coastal area of the town arriving at the Roquetas Aquarium, where a guided tour is included.
Cyclists then get to know about the fish auction of Roquetas and on return a visit to the Alejandro restaurant, the only Michelin-starred restaurant in Roquetas.
While the chef prepares the dishes and explains his techniques, cyclists can try three special tapas from the restaurant, accompanied by a beer or wine.
Enrutados offers a popular tour of Punta Entinas, a comfortable and affordable circuit suitable even for children, a route accompanied by expert guides, customers can learn about the history, economy, fauna and flora of this area of Almeria.
All routes are accompanied by specialised guides that carry water, cereal bars, first aid kit, tool kit, binoculars, and anything that might be needed along the way. Bicycle rental, helmet, reflective vest and accident insurance are also included.