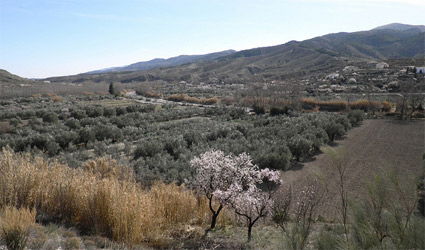 WORK on the Huercal-Overa to Guadix  gas pipeline has been  completed.
The work in Almeria province has taken nine months since the project was authorised by the Spanish Government. As reported by the Almeria Government Sub-delegate, Andres Garcia Lorca, once the tests are carried out and the project complies with technical and safety standards, the sub-delegation will  issue the certificate of commissioning, which will open up the pipeline to supply gas.
The pipeline, the largest under construction in Spain, has a length in the Almeria province of 67 kilometres and passes through 13 municipalities of the Almanzora Valley. Four stations have been built in Huercal- Overa, Albox, Partaloa (which will service the Cosentino industrial park) and Tijola.The stations allows the distribution of pipes and the installation of future distribution lines according to a statement from the Almeria Government.
During its construction the pipeline has generated 250 direct jobs and 24 companies from the province have participated in the project. Andres Garcia Lorca commented that the construction of this pipeline, along with improved road communications will go down in history in the Almanzora Valley.
The commissioning of the pipeline, scheduled for early next year will eliminate the circulation of more than 2,000 road tankers and reduce gas emissions of 670 tonnes of CO2.
In addition to bringing the supply of gas to existing companies, Andres Garcia Lorca stressed that this new infrastructure will prove attractive  for entrepreneurs to contribute to the Valley. Sectors like the marble industry will have an advantage from other alternative locations and it will help increase the competitiveness of the local industry.