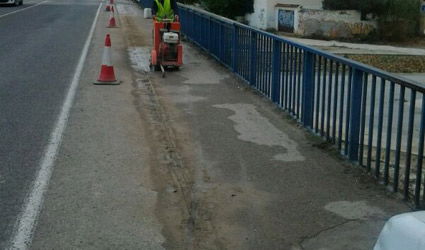 THE road bridge on the main road at La Cala de Villajoyosa has a pavement at last.
Until now anyone going on foot in the direction of Benidorm has been obliged to walk on the side of the road with traffic thundering past them.
 "Residents have asked us to improve this section of road and to make it safer for pedestrians for some time," explained Villajoyosa's Technical Services' councillor Jeronimo Lloret.
Constructing a pavement for the130-metres between the La Cala de Villajoyosa entrance to the end of the bridge was covered by a budget of €12,000, Lloret said.
Neighbouring Finestrat has collaborated with the project by providing lighting for the area around the bridge, installing lampposts on the left-hand side of the road.
Work should finish this month, Lloret said, and will include fixing anti-slip studs to the zebra crossing and adding a bicycle lane.