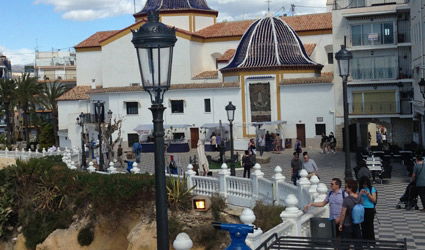 BENIDORM town hall is determined to protect its castle.
Today all that remains of the fortified structure that once stood on the Canfali headland between the Levante and Poniente beaches is its name.
The town hall wants the Castillo and the adjoining area – both of which are paved and developed –  to be declared a Cultural Asset (BIC).
The town hall fears the impact of the new seafront demarcation lines set by the national government's Environment ministry.
Canfali is included in the six-metre strip set aside as public domain, as are properties on its seaward side leading from the Plaza Torrejo up to the church.
Special permission would be needed from the Environment ministry before repairs could be made to frontages or structural reforms carried out, said Urban Planning councillor Juan Ivorra.
These houses could soon deteriorate, Ivorra warned, and subsequently affect the town's image.
The town hall has asked the Coasts department to consider an alternative to the six-metre transit zone.  "Especially," Ivorra pointed out, "as transit along the cliff-top is impossible anyway."