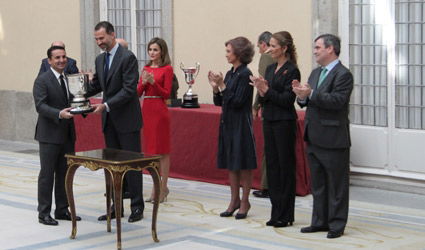 LA NUCIA, locally renowned for its sports facilities, has won national recognition.
It has been awarded the National Sports for its installations and promoting and organising sport. 
This is Spain's most important national sports honour and this year also went to FC Barcelona, the Women's Water Polo team and Taekwondo Olympic gold medallist Joel Gonzalez.
The town prides itself on its 150,000-square metre Ciutat Esportiva Camilo Cano sports complex.  It has decentralised activities with multisports grounds and a network of woodland walks over a 50,000-square metre area.
Access to sport in La Nucia allows the town's 63 nationalities to integrate socially and maintain a healthy lifestyle, said mayor Bernabe Cano as he received the award at the Pardo Palace in Madrid. 
The municipality encouraged sports amongst residents of all ages, from the very young who attend the 55 sports schools to the Third Age.
"When we began this project 12 years ago, we never dreamt that we would one day receive the National Sports Prize.  It is a prize shared by all of La Nucia's sportspeople, instructors, trainers, clubs and sports schools," Cano declared.