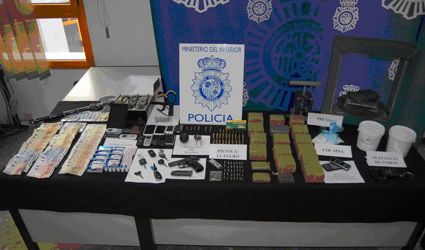 TEN people have been arrested for reportedly belonging to a drug trafficking ring that operated in Malaga.
The accused, seven men and three women aged between 21 and 54, have been charged with an alleged crime against public health, belonging to a criminal ring, illegal detention, robbery with violence, injuries, threats, illegal weapon possession and storing war weapons.
The ring sold the drugs from five houses located in the city of Malaga, the Drugs and Organised Crime Unit of the National Police said.
During the course of the investigation, officers found the leaders of the gang had held a person prisoner for three days for allegedly incurring a debt with the ring.
This person was supposedly robbed, injured and threatened until he managed to escape, officers said.
Eight kilos of hashish, 320 grammes of cocaine and several boxes containing anabolic steroids were seized in five different searches.
In addition, officers seized a hydraulic press, a weighing scale, €4,085 in cash, 23 mobile phones and a high range car.
On top of that, they also seized a hand-grenade, a handgun, a keychain gun, ammunition of different calibres, and a double edge axe.