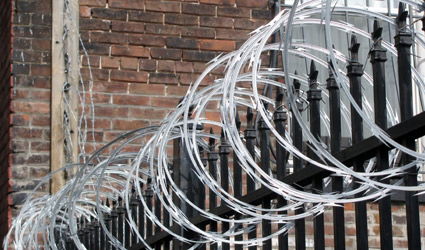 THE Spanish government has placed razor wire on top of the border fence in Melilla to prevent immigrants from trying to enter the autonomous city.
At the same time, the fence has been raised from three-metres high to six.
This has led to protests by political parties in the opposition, which have described the decision as "unacceptable."
 Several NGOs, including the Andalucia Pro-Human Rights Association (APDHA), have claimed the razor wire violates human rights and "could even cause the death of people."
This type of wire was removed in 2007 due to the injuries it caused to people who tried to climb the border fence.
APDHA has accused the government of trying to "hide the reality of the Melilla border fence."
"The razor wide is a deterrent element," said the Interior Ministry Jorge Fernandez Diaz, who added it is not "aggressive."
"The aim of the razor wire is to prevent the illegal entrance of people into our country, and I believe that is our duty," he claimed.
President Mariano Rajoy said this type of wire will only be removed if an effective alternative is found.
Meanwhile, the company that manufactures the razor wire placed in Melilla claims it is one of the "less aggressive" models.
Cartama-based European Security Fencing (ESF) manager, Antonio Mora, said the aim of his product is not "to cut people," and said it has a "psychological and visual effect" on them instead.