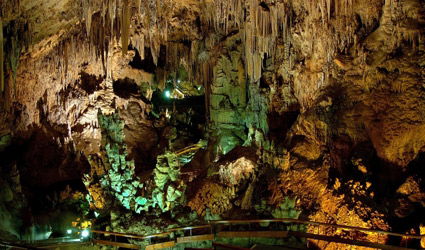 NERJA'S caves could hold the secret of the origins of writing.
Scientists are claiming that because of their antiquity cave paintings dating back to the Upper Paleolithic period, that is, between 40,000 and 10,000 years ago, could hold vital clues.
The scientists were taking part in an international meeting on art in prehistoric societies held in the Axarquia town last weekend.
Researchers have discovered a high percentage of signs among figurative motifs in the cave paintings, which could be linked to a primitive writing system.
These signs have also been found in other caves in the province of Malaga, including the Pileta cave and the Navarro 1 cave.
"We could be facing a never-before-seen phenomenon," said researcher Maria Angeles Medina.
So far it seems there is a pattern of formation of sentences, but scientists have not been able to translate the signs yet.
"These are complex signs that, according to the first analysis, were used as a primitive form of writing," said the Art of Prehistoric Societies International PhD Encounter coordinator Antonio Romero.
Scientists from six different countries presented their findings during the meeting, which followed two previously held in Toulouse (France) in 2008 and Zaragoza in 2011 on the same topic.