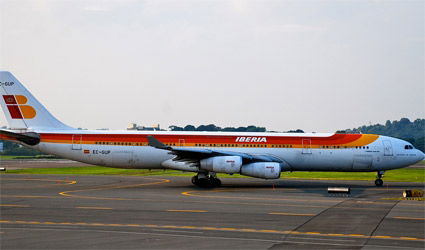 IBERIA is eliminating 191 management posts.
The present number of 399 managers, assistant managers and unit managers will fall to 208, a reduction of 48 per cent.
The staff cuts follow last July's 46 per cent cutback when senior positions were reduced from 82 to 44.  Two months earlier, the number of Iberia executives was cut from 11 to nine.
The true figure for the latest reductions is closer to 35 per cent, Iberia claimed, owing to "quasi-management positions" not included in its original reorganisation plans.
Iberia will study the future of the newly-affected Iberia employees case by case.  Some could be relocated while others "might be leaving," the company said.
The new structure responds to present and future needs, Iberia said, and reflects the best market practices.
Iberia, which merged with BA to form IAG in 2011, has a redundancy plan affecting 3,141 employees.    Salaries for air and cabin crews' wages have been cut by 18 per cent and by 11 per cent for other staff.