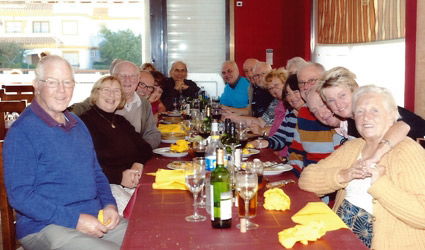 NEIGHBOURHOOD Watch in Spain La Roseleda / Los Frutales branch held a Christmas lunch at a local restaurant in Torrevieja.
They were joined by members of the central committee, Geoff Salter president, Graham Knight vice president and Bill Connerty who all have played a part in making NHW in Spain the enterprise it is today.
After the meal Patrick Deathers, local branch treasurer and organiser of the lunch who was also a founder member of the NHW in Spain, asked Bill Connerty to say a few words about the start some 13 years earlier when he, Graham Knight,  Bill Connerty, Trevor Hall and Terry started from scratch to combat crime in Torrevieja.
Their success is seen today with a marked reduction in crime in the area, all down to getting people to follow some of the simple rules like locking all doors and windows and keeping valuables out of sight and only carrying what money is needed.  More information: www.nhwinspain.com (Vecinos Cooperando y Colaborando de Espana).