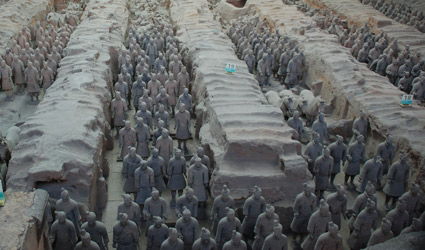 In 1974 when local peasant farmers came across fragments of clay while digging a well on a hillside in Lintong provence, about 35 kilometres east of the Chinese city of Xi'an in the Shaanxi region, they had no idea that it would lead to one of the major archaeological discoveries of the 20th century. After more pieces began to appear news spread and it was not long before archaeologists moved in to investigate. To their astonishment the initial excavations uncovered not just broken clay objects, but life size figures standing in trenches in symmetrical formation. Since work began on the site over 8000 soldiers as well as more than 500 horses together with weapons and chariots have appeared out of the ground to become one of the wonders of the world.
The origins of what has become known universally as the Terracotta Army date back more than 2000 years. After defeating the warlords of the Seven Kingdoms at the end of a period known as the Warring States, which lasted from 475-221BC, Qin Shi Huang-di, became the first emperor of a united China. Under his rule, which only lasted for 15 years, China developed a centralised administration, established land ownership with a tax system, built a network of roads to expand economic links, and created a standardised written language which became the pillar of Chinese culture.
The Emperor died in 210BC and was buried in a Mausoleum near his capital city, Xi'an. Today the only sign of his burial place is a large hill, visible from far away, but although it has not yet been excavated, experts believe it covers a vast hidden city complete with buildings, the emperor's tomb and bronze and ceramic objects.
It had been the tradition for Emperors to take their administrators, government officials and workers with them into the next life as well as valuable objects and be buried in tombs together whether they wished to die or not. But it seems Qin Shi Huang decided he would rather be accompanied by terracotta or baked clay models instead of real people. According to historians, there may have been a change of mentality in Chinese society, but they believe the Emperor may have also considered that terracotta figures would be immortal whereas human bodies would decay. Whatever the reasons, Qin Shi Huang decided that he wanted to be with his soldiers in the next life. He set in motion a monumental project to build an army built out of clay, a material which was abundant in the region, within the space of a year. This posed a considerable logistics problem as two weeks were required to mould each warrior. However one of the most significant discoveries by archaeologists was that no warrior was the same. Each had its own physical appearance. This ruled out the use of a single standard mould, so how were the soldiers made within the time limit imposed? The answer was manpower.
Tens of thousands of craftsmen and workers must have been conscripted to put into effect the emperor's wishes working around the clock to create his army. While it is possible that the legs may have been made from a single mould, clay was stretched into coils to form the soldiers' bodies and heads so each warrior would be unique. A soldier's armour consisted of 500 small limestone plates held together with bronze wire, and craftsmen had to carve the design into the bodies of the clay warriors as well as adding personal features such as headgear, eyebrows, moustaches and beards. Thus Soldiers of different rank with different uniforms and weapons could be recognised. Apart from creating 8000 individual warriors another mystery was how the terracotta soldiers and bronze weapons could have remained in such perfect condition after being buried for over 2000 years. Experts found that the Chinese had developed a method of mixing oxide of chrome with salt to seal surfaces; a technique only patented in Europe in 1938.
Forty years after the first excavations, work is still continuing. Construction of the first buildings began in 1976. The main site, larger than a football pitch, became a huge covered hall and two adjacent buildings with further excavations have been added. It is one of China's most visited museum complexes complete with a shopping and restaurant village and extensive parking facilities. Lucky visitors might have the chance to see the now elderly farmer who discovered the site in one of the museum shops where he often makes a personal appearance.
The Terracotta army has travelled the world with copies exhibited in many cities around the world.  The latest temporary exhibition is in the Fernan Gomes cultural centre in the Plaza de Colon in Madrid and lasts until March 2014. It comprises 150 exhibits including full size soldiers, horses, weapons and objects as well as a 50 minute long documentary explaining the origins and creation of this priceless treasure which is a unique example of China's ancient cultural heritage.