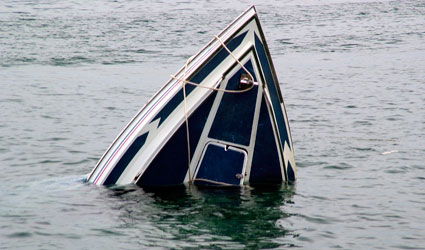 Their catch phrase is; any boat, any waters, any use, anywhere. "Any waters" nothing to worry about then, except perhaps rain. Even with an Edward William Marine Services insurance policy owners still have the responsibility to maintain their boats properly even if they go away.
The best of boats will go down if enough rain water gets into them. With the unpredictable Mediterranean wet weather surely on its way, it's time to give a little thought to your automatic bilge pumps and more importantly the batteries that run them. Simple formula, if the battery packs up – the pump packs in and should it rain very heavily your boat could go down.
Take a moment before the festive season gets under way to have a peek at your pumps and batteries, clean up the pumps and terminals, replace the batteries if needed.
With the boat maintenance sorted out, Edward William Marine Insurance, confidently maintain that for every risk there is a premium and that all boats are considered and invariably accepted. All you have to do is ask.
The quotes are given straight away, the insurance policies are available in both English as well as Spanish and come in an internationally recognised format that's  not limited  to just Spanish waters, a small but important point that is often overlooked.
Extensive experience in marine insurance world wide means this company is very comfortable with – but not limited to – the insurance needs of Ex-pats and their craft large or small. In recent years based on their sensible attention to detail and good service Edward William Marine Services have constantly made healthy in-roads into the insurance market for Spanish owned boats. It is a progressive company that looks after their customers.
Remember if you're in any boat business yourself, quality "introducers" with integrity are welcome and remunerated for their efforts. If you are a boat owner, visit their website www.edwardwilliam.com or give them a call on 952476090  before your next renewal is due and ask for a insurance quote for your boat. Any boat, any waters, any use, anywhere.
Happy Christmas. 
© By Pete Woodall