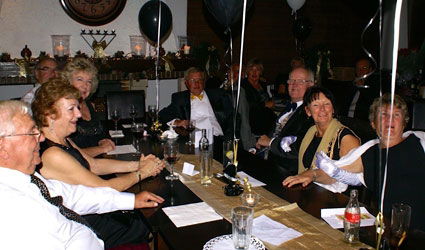 BLACK and White Night at Quesada Country Club was more than just a smart affair; this year it was a 'smarties' affair and one which raised thousands for the Children's Home in Elche.
Annette English, representing the home, was presented with a cheque for €1,500, added to this was a cheque from other local fundraising events for €500 and an anonymous donation of €1,000 which bought the total to €3,000 for the Children's Home.
On the night, event sponsors Mark Roscoe and Kellie Callaghan from Spanish Life Properties launched the Smarties Project. Kellie who gave out nearly 50 tubes of smarties said: "We hope to roll this project out to the whole of Quesada and perhaps even beyond. Spanish Life Properties were proud to sponsor this event and we have have decided to make the Children's Home in Elche our charity for 2014."
To join the Smarties Project go along to Spanish Life Properties in Quesada or Quesada Country Club and pick up a tube of Smarties and fill the tube with 20cent coins. When the tube is full take it into Quesada Country Club and watch the Smarties barometer grow.