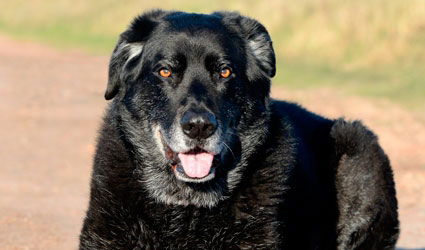 The upcoming holiday season may be an excellent time to put some balance in your life and adopt a senior pet.
Senior pets can and do bond very strongly with adopters. Many seem to understand they have been given another chance at a happy life and are grateful for the opportunity to love someone and be loved in return.
There are an abundance of healthy senior pets looking for a special home to cherish them for the rest of their life. Although shaping the life of a youngster sounds appealing, giving a second chance to an older companion can be equally rewarding. They like to share quiet moments, are already trained and don't chew or scratch everything in sight.
Older pets have plenty to offer adopters – not the least of which is love.  Instead of passing by them in the shelter, stop for a cuddle and you may find the most wonderful companion possible!

What You See is What You Get with adopted older dogs or cats – you will usually know about any behaviour challenges or health considerations before you adopt. In other words, there are no surprises.
If you have young children it is important to discuss this with the shelter and in my opinion it is important to pay a dog trainer to visit your home and chat with you and the children and assist you to select a senior pet. The senior pet will not need too much educating, the children certainly need educating to respect the dog and give it space and never put their faces to the dog.

For more information about adopting and caring for a senior pet contact the local shelters.