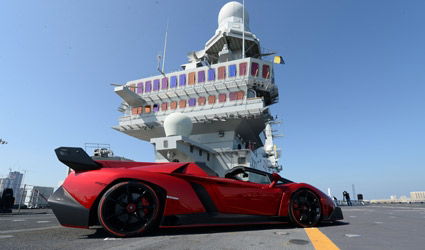 THE Lamborghini Veneno Roadster made its public debut on board the Italian naval aircraft carrier Nave Cavour.
At an exclusive 'Italian evening,' the limited edition super sports car, of which only nine will be produced, was formally unveiled on the flight deck of the 240 metre ship while docked in Abu Dhabi's Mina Zayed port.
The Lamborghini Veneno Roadster is a fully road legal, open top car, bringing the aerodynamic efficiency of a racing prototype to the road.
The nine units will be built during 2014, priced at €3.3 million each.
With a maximum power output of 552 kW / 750 hp, the V12 Veneno Roadster accelerates from 0 to 100 km/h in just 2.9 seconds, with a top speed of 355 km/h.
Shown in Abu Dhabi in the specially developed colour 'Rosso Veneno', each client will be able to individualize the colour of his Veneno Roadster to suit their personal preference.