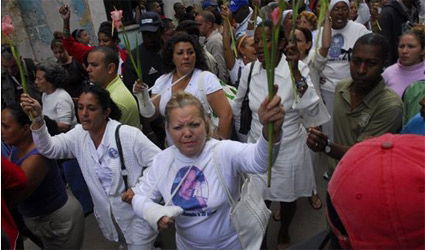 On International Human Rights Day yesterday, 20 female protesters were detained and arrested in Cuba as they tried to gather to begin a march.
The women were wives and mothers of dissidents who are or have served time in prison; they are part of a group called the Ladies in White. They had planned a protest on a central street in Havana, but were removed from the area as soon as they arrived, despite arriving in small numbers in taxis.  The law in Cuba prevents virtually all forms of protest and dissent according to international rights groups.
The government went on to celebrate Human Rights day with a forum celebrating its human rights achievements, specifically in providing social services and protection as well as improving conditions for women and minority groups.  They also organised an event for children, who chalked peace symbols on the pavements, and danced and sang at the event.