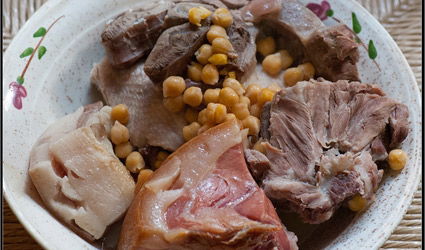 COLD weather is upon us and what better way to fight it than eating a traditional stew?
Spanish gastronomy offers a wide variety of this substantial dish, but probably the best-known type is the Madrid stew or 'cocido madrileño.'
This chickpea-based stew is said to have been created in the Middle Ages, and has ever since been present in the gastronomy of the Spanish capital.
Many restaurants in Madrid serve it as a speciality following family recipes that have proven enduringly popular despite the more modern food fashions in the country.
The cocido madrileño is also a very popular dish to prepare at home for special occasions, and not only in Madrid, but also in the rest of Spain, each region adding a unique touch.
The star of the cocido madrileño is the chickpea or garbanzo, which is accompanied with vegetables like potatoes, carrots and celery.
The meat used to make a cocido includes pork and hen, plus chorizo sausage, black pudding or cured Serrano ham.
Traditionally, the cocido madrileño is eaten in three different steps or 'vuelcos'.
The name vuelco makes reference to every time the ingredients are poured from the cooking pot.
Thus, in the first vuelco people normally eat the soup, which is followed by the vegetables in the second vuelco, and finally, the meat in the third vuelco.
As this almost ritualistic, way of eating cocido madrileño takes a long time, many people prefer to have all the ingredients served at once.
Perhaps the most interesting aspect of this traditional dish is what people do with its leftovers.
Instead of heating them in the microwave, or even binning them, leftovers are used as the base to create more dishes.
Spanish croquettes, cornerstone of the tapas culture, are often made using cocido leftovers.
In the Canary Islands, 'ropa vieja' is a popular dish which is made by sautéing the vegetables and adding thyme and rosemary for an additional aromatic touch.
In Andalucia, the pringá is made using the meat from the stew served with bread.