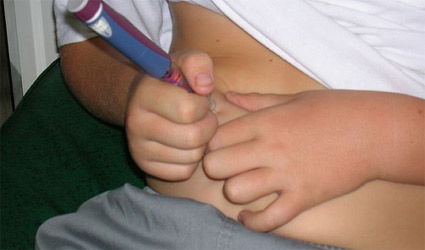 TYPE ONE diabetes is one of the most common chronic diseases in children under 15, but little information is given about it.
Here are five facts about childhood diabetes:
Diabetes is genetically predisposed in individuals following activation of the immunity of the patient. It is what is known as an autoimmune disease where the child's own defences attack their own structures generating the disease.
There is currently no cure for diabetes. Research is underway into stem cells and vaccines but are in the early stages of development.
Despite frequently told myths, insulin does not cause blindness, however, diabetes, if left untreated, can affect small blood vessels of the body, including those found in the retina of the eye which can lead to problems with sight.
 Having too much sugar in the diet does not inexorably lead to the development of type two diabetes. Also, diabetics do not have to completely ban sugary foods from their diet, but must moderate and monitor their sugar levels.
The most common childhood type one diabetes is not associated with being overweight, but playing sports regularly and moderately (especially at early ages) is essential for good control of their disease.
Symptoms of childhood diabetes include: needing to go to the toilet more often: excessive and constant hunger and thirst; unexplained weight loss; headaches; tiredness and fatigue; irritability; blurred vision; nausea and abdominal pain.