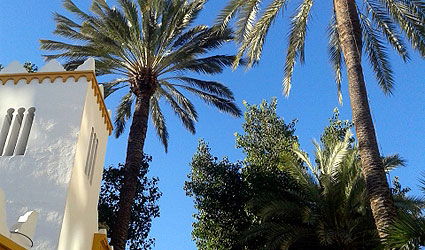 THIRTEEN years on from when Elche's Palmeral was declared a Unesco World Heritage Site, a group of eight architects are analysing the future of the site.
The architects, meeting in a local coffee shop, believe the future of the palmeral and gardens lies in restoring them to agricultural use of a certain degree. The Palmeral is Europe's largest palm grove.
Ideas of rural tourism or the installation of a restaurant in one of the few traditional houses left, are just some of the alternatives offered by the group to recover abandoned plots and ensure Elche's Palmeral reputation remains. They also discussed getting landowners back on site to prevent the abandonment and deterioration of Hort dels Pontos: "Right now, the orchards are subject to various problems, because they are uninhabited and no one can prevent all kinds of vandalism being committed,"  lamented Jose Antonio Pascual.
Procoro del Real and Antoni Baile added: "Elche has been built around a palm tree, and we can not lose sight of that. Palm trees are from before and must always be respected when undertaking any project."