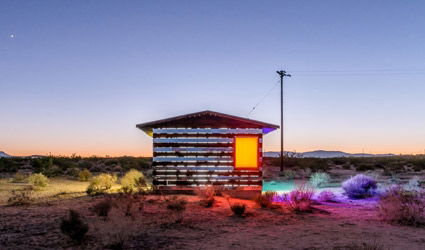 A CABIN in the Californian desert that has been remodelled with mirrors and LED lights that appear to make it see-through is a new art phenomenon.
Phillip K. Smith III is the artist behind this architectural design. Set in Joshua Tree, California, the project called 'Lucid Stead' is a composition of an old wood cabin, reflecting panels, lights and custom electronic equipment.
The cabin not only appears see-through but it changes throughout the day. During daytime, the structure appears partially transparent thanks to the mirrors' reflection, but by night, square and rectangular mirror's light up in red green and blue.
 'Lucid Stead' is about tapping into the quiet and the pace of change of the desert. When you slow down and align yourself with the desert, the project begins to unfold before you, revealing that it is about light and shadow, reflected light, projected light and change," explained Smith about his creation.
The showcase was initially planned as a two-day event for some spectators, but thanks to word of mouth and press coverage it turned into a must see event for art lovers over two weekends.