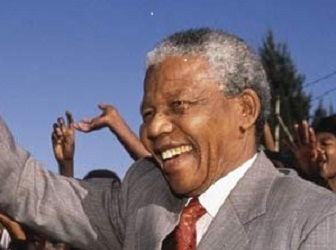 NELSON MANDELA, South Africa's ex president, freedom fighter and international symbol against racial oppression, died peacefully in his home on the night of December 5, aged 95.
South Africa's President Jacob Zuma made a statement saying "Our nation has lost its greatest son. Our people have lost a father… What made Nelson Mandela great was precisely what made him human. We saw in him what we seek in ourselves".   
Barack Obama echoed the sentiment, saying "We have lost one of the most influential, courageous and profoundly good human beings that any of us will share time with on this Earth.  He no longer belongs to us, he belongs to the ages."
Nelson Mandela spent 27 years of his life imprisoned by an apartheid system; he was freed in 1990, and then went on to lead his country away from racial segregation and into democracy.
Mandela was born in 1918 in a small village called Mvezo.  His father died when he was nine and he was taken in and educated by the tribal chief. He later went to the University College of Fort Hare, but was expelled for taking part in a protest. He went on to set up South Africa's first black law firm. He helped to form the youth league of the African National Congress and radically fought for equality in his country. When the ANC was outlawed, Mandela went underground and formed a new wing of the organization.
Mandela said at the time "My people, Africans, are turning to deliberate acts of violence and of force against the government in order to persuade the government, in the only language which this government shows by its own behavior that it understands."  He was arrested in 1964 and sentenced to life for sabotage and conspiracy to overthrow the government. Rather than testifying at his own trial, he gave a speech which lasted longer than four hours.
His release in from prison in February 1990 came after an international campaign, led by his wife WinnieMandela; they went on to divorce in 1992.  He moved into politics to become President of South Africa, but retired from the frontline in 1999.