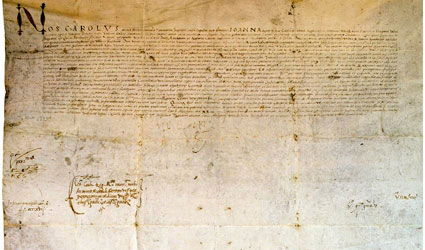 VILLAJOYOSA'S municipal archive has digitally copied more than 200 documents relating to the area. All refer to Villajoyosa and neighbouring municipalities but are stored outside the Marina Baja.
They include a record of the gift in 1270 of castles and estates in Orcheta, Finestrat and Torres by Jaime I to Berenguer Alfonso and his family.  The original remains in the Crown of Aragon archive but can now be consulted by investigators and students inside La Vila itself.
In a 1653 document from the Kingdom of Valencia archives Felipe IV gives "the Villa Joiosa" permission to construct a dam in Relleu.  Further documents relating to Villajoyosa's Augustinian monastery – expropriated during secularisation measures in 1836 –  have also been copied from those now stored in the National Historical Archive.  
The new copies complement Villajoyosa's existing digital copies of parchments dating from the 15th and 16th centuries.  There are also copies of town council tomes between 1709 and 1752, account books from 1708 to 1760 and plenary meetings from 1862 to 1941.