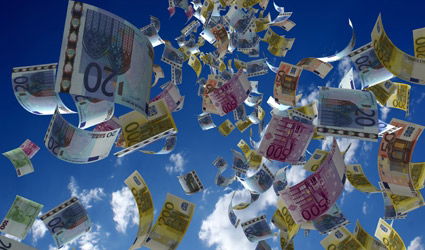 COULD you do with an extra few euros for Christmas? How about a cool €4 million? This is how much the holders winning 'billetes' of the 'Sorteo' or 'Loteria de Navidad' in Spain pocketed last year; in all there were 180 winning billetes. Even the second place wasn't too shabby, with €1.25 million to help with all the nicknacks needed during the festive season.
The lottery here is among the oldest and biggest in the world. It has run unhindered by wars or dictators since 1812 and with chances of winning better than other lotteries most of the country takes part in the game.
Of course, chances of winning are still microscopic at 1 to 100,000, but why let that spoil the dream. American psychologist Dr Stephen Goldbart says the lottery "lets you believe in magic," and that punters believe they "will defy the extraordinary odds against winning."  The actual investment can be quite hefty at €200 per billet if you set out to acquire the so-called series, which are also split into less eye-watering tenths (décimo) of a ticket, sold at €20.
Personally, I am already planning how I will spend my €4 million. It is not that I am entirely delusional – au contraire – I have worked out that not having won anything on any lottery, raffle or game in my entire life I am now odds-on to swoop El Gordo to make up for such abysmal luck in past years.
Someone that needs no luck to win the lottery is the tax man. Yes, with a fat finger in every pie, Señor Impuestos also wants his cut from your stroke of luck; any winnings over €2,500 will see a 20 per cent slice going to the Government.
The only question is which luscious luxuries you would spend it on?  A yacht? A pied-à-terre in Paris? A spending spree in Cartier..? The rich man's world really would be your oyster. 
It is the ultimate question – only short of the one about a God – what would you do if you won the lottery? If you're anything like me, you will already have the list prepared (be it on paper or perfectly recited in your head).
 I can assure you that a significant portion would go to help those truly unlucky. This year, the unwanted mantle goes to the victims of typhoon Haiyan in the Philippines. 
In case you decide to join me in my foolhardy gambling endeavour, do make sure to keep your eyes peeled to the TV set on Sunday December 22 – the day of the draw. If you hear a joyful shriek emanating from depths of the Mallorquin countryside, it will mean my spate of bad gambler's luck is finally at an end. I won't be holding my breath though…