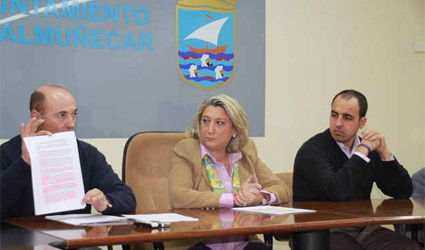 FARMERS affected by severe storms in August have staged a town hall sit in. They took over a third floor room at the Almuñecar council HQ and refused to budge.
They vowed to stay there until someone from the Junta de Andalucia regional government answered their calls for compensation after 90 per cent of their crops were wiped out by the freak summer storms.
They farmers decided to take direct action saying they were being discriminated against by the Junta.
President of the Sub Tropical Fruit Producers (Aprodate), Juan Camacho, said they haven't received any help from the Junta while farmers in El Ejido (Almeria) have been granted money to make up for the losses after their crops were affected by hail just weeks ago.
Camacho, who was due to have a meeting with the agriculture representative in Granada next week to deal with this matter, has stated the sub-tropical crops are in a terrible state.
"The situation is tragic and distressing for many families, who were affected by floods before the harvest season started."
 Around 90 per cent of the sub-tropical fruit harvest in the Rio Seco, Rio Verde and Rio Jate fields was wiped out by hail and torrential rain at the end of the summer.
Almuñecar mayor Trinidad Herrera asked the national government to declare the town a disaster area after the storms.