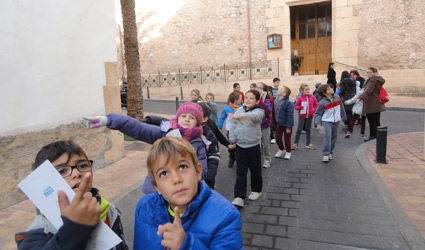 LA NUCIA schoolchildren are getting to know their home town better.
Over a six-day period pupils from locals schools Sant Rafel and La Muixara  were led through the town to learn more about the municipality they call home.
Features that most of the local children are so familiar with that they hardly notice them were pointed out and described to them.  The origin of names of the oldest streets were explained, as were the niches for statues of saints important to the town.
They saw the lavadero or wash-house where the village women –  possibly their grandmothers and great-grandmothers in some cases – did their washing before running water was taken for granted.
These walks have been a regular feature of the syllabus for second-year primary pupils for the last 10 years.  Once back in class the children complete an exercise based on what they have seen, the Education department added.