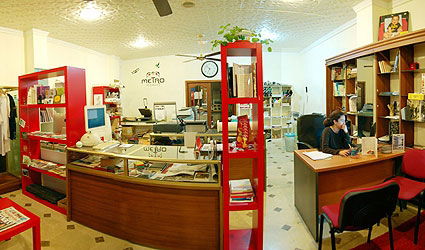 Business cards, prestigious restaurant or snack-bar menus, posters, banners, flyers and just about any type of specialized printing, you name it, Metro will print it for you.
Metro Print or Metro Publicity to give them their proper name, is a bespoke print shop in Los Boliches (Fuengirola) run by sisters Debbie and Yvonne Alonso. Brought up in Australia they are both fully bilingual.
Their print business is quite unique. Yvonne is a college trained graphic designer, previously employed by several professional publicity agencies and Debbie is experienced and at home in hotel and restaurant management. These useful business talents provide them with a good insight into the needs of their clients. When it comes to printing they know what they are doing and what works well.
No job is too small;  one or more specialized large colour posters to publicize an event or special offer, an order for 1000 flyers for a new business or simple single fold menu cards, printed on easy to clean polyester or laminated card, are all very affordable and well laid out. For example 100 simple business cards from just €14.00.
Moving up the scale, a multi-page bound full colour restaurant menu, perfect in Spanish and English with custom graphics and text is not a problem, nor is a catchy logo for your business. The  chances are, some of the logos you may have seen on the coast where designed by Yvonne when she worked for someone else but now they successfully work for themselves and have done since 2010. Metro is a small business with a big business experience behind it.
Related products include photocopies and laminating up to A3, photographs printed on canvas, embroidered or printed T-shirts, Polo-shirts, Aprons and Baseball caps, die-cut full colour vinyl signs and banners as long as you like and width up to 60 cm high. A-boards, both traditional and the fancy florescent LED glow in the dark ones. The list just goes on.
Metro Print is easy to find, on Calle Fransico Cano 2, in Los Boliches, two streets behind the Yaramar hotel, telephone 951254572 or visit www.metropublicity.es