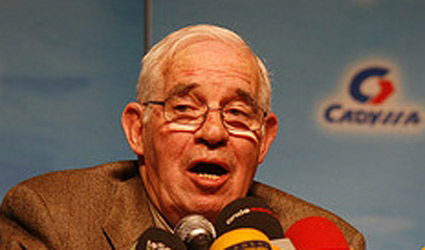 LUIS ARAGONES, 75, Spain's former football coach, has confirmed his retirement. He famously took Spain to victory in the Euro 2008 tournament.
Aragones took a lot of criticism at the time for pushing aside established football stars in favour of younger talent. He also changed the style of the game, training his players in the style already successful for Barcelona, short passes and tight team playing.
Following his success in Euro 2008, Aragones moved to Turkey to train Fenerbahce, but left after one poor season. He has not been with a club since 2009, so his move to retirement is a natural progression.
José Luis Aragonés Suárez began his footballing career in 1957 for Getafe, and then moved to Real Madrid. From there he played one season for Oviedo and three seasons for Betis. His career really picked up when playing as a striker for Atletico Madrid.  He played 265 games for them between 1964 and 1974, before becoming their coach.