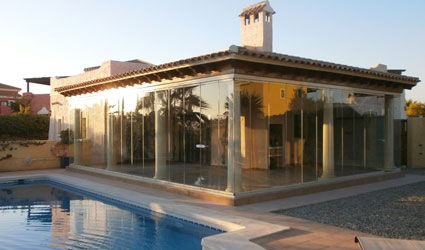 LIFESTYLE ENCLOSURES based in Antas is a reputable registered company which was formed back in 2005.  Their name is now synonymous with Florida style fly free enclosures and all types of insect screening.However, the team at Lifestyle Enclosures have not rested on their laurels and the business is continually evolving with the introduction of innovative new products.
They are the area's leading installer of Glass Curtain Systems, working closely with three manufacturers to ensure that they have a system to suit your requirements and budget with a full range of colour profiles to suit your home. The frameless glass curtains are ideal to turn your outdoor terrace area into a winter suntrap, and during the hot summer months they fold away to be completely unobtrusive.
As of December 1 Lifestyle Enclosures have become the official Neater Heater distributor in the area. Neater Heaters are easy to fit and  are a cost effective way to heat your home in winter , from a small bathroom to a full central heating system.
They are proud to have been selected to be official distributors for both Floodshield® and Floodgate® water barrier systems.The Floodshield® door protection system and Floodgate® range come in a range of widths and are easy to fit,adapting to your measurements to provide a watertight fit.
Lifestyle Enclosures can also supply a tile effect lightweight composite insulated roof system as well as fixed and retractable poly carbonate roof systems. UPVC and Aluminium Glazing Systems are also part of their  portfolio. From a porch to a patio enclosure, Lifestyle Enclosures have a solution to enhance your outdoor living and the showroom is well worth a visit as it has a whole range of products on display.
They are also Andalucía's official distributor of Flo Plast Rainwater Systems, always in stock for supply only or supply and fit service.A range of Awnings, Toldo's  and blinds are also available.  A free no obligation site visit is available offering expert advice and an exact price and the team have even worked on projects from Portugal,France and Northern Spain.Check out the facebook page LifestyleEnclosuresEurope for more photos and ideas.
The showroom is on the El Real Industrial Estate in Antas Tel 950 459 060 Mobile 638 063 196 Open Mon-Fri 9am-6pm Email i[email protected] Website www.lifestyle-enclosures.com