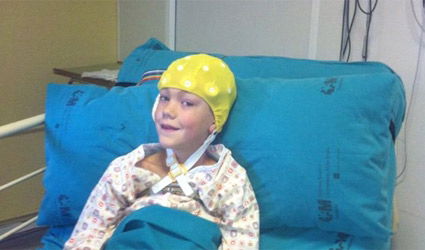 THE Costa community is once again rallying round to look after its own.
This time friends and family of Jake Rose are trying to raise €120,000 to send the nine-year-old from Mijas Costa to America for life-changing brain surgery.
Jake, who has already endured four operations for a rare form of epilepsy, needs the surgery in a bid to let him live a normal life. As his single mother Debbie said: "I worry about what will happen to him if anything should happen to me. Doing nothing is not an option.
"I really did not want to have to ask for help. It was only after the last operation in Madrid did not really work and this was the last option, that I decided I had to get help for Jake. He really needs to go to America for this operation if he is to have a chance of a near normal life."
Although he has shown improvement since his operations – carried out in Madrid- he is starting to get worse again.
His condition at one stage left him having 180 seizures a day.  Despite his operations he still has multiple seizures – on Monday he had already had 18 when the EWN spoke to his mother at 8pm.
Jake is a lovely polite boy who sat quietly next to his mum as Debbie said: "He is a funny, loving and caring son. He deserves a better quality of life.
"He is just a child who deserves so much more."
An initial assessment and tests at the Rainbow Clinic in Cleveland costs $35,000 (€22,000) with further operations coming in at around $95,000 (€70,000), plus the cost of flights and accommodation.
Now friends and family are rallying round to try and raise the money. An event in Our Bar in Calahonda's El Zoco raised €2,000 and another event featuring some of the coast's top entertainers is being lined up for December 18 at the bar. Tickets at €10 include a meal. More information: 672 99 91 48.
La Cala based Sunshine Golf as well as BWS bar supplies are also amongst those trying to help out.
The EWN is getting right behind Jake and we know the Costa's expatriate community will help out. The kind hearted people of the Costa have proved time and time again that they are always prepared to help their own. Please go that extra mile once again, for Jake's sake.