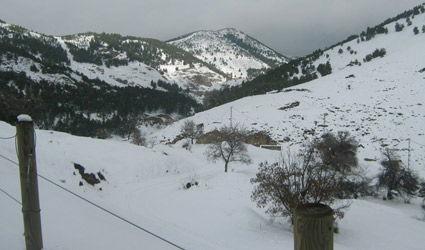 SNOW hit the north of Almeria province forcing buses and trucks to stay in their depots as temperatures fell below zero.
Although the first cold snap of winter a few weeks ago brought a light sprinkling of snow to the highest peaks in the province, this week the north of the province was converted into a veritable winter wonderland.
Towns like Bacares, Laroya and Las Menas woke up to several centimetres of snow. A cold wind throughout the area obliged many people to search out their hats and scarves in all the towns of Almanzora with the mercury failing to rise above 12 degrees.
As for the impact on the road network, several roads in the interior, due to the accumulation of snow or ice were on red alert. The use of snow chains was necessary on several roads such as the AL5404 in Escullar which was closed to trucks and buses.
Care was also needed on the AL4404 at Calar Alto. In the town of Bacares some schoolchildren had extra days off because the bus could not reach the town and even the doctor could not get to his practice due to the weather.