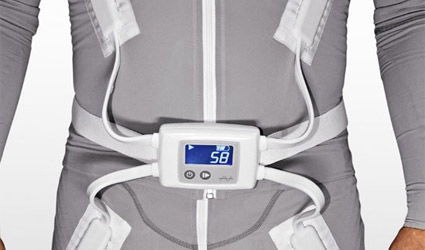 A SUIT that fires mild electric currents in to the body could banish severe muscle pain.
The high-tech 'onesie' or 'Mollii' has 58 electrodes that emit a gentle current through the skin which prompts muscles to relax, easing painful spasms that can occur in conditions such as stroke, multiple sclerosis and cerebral palsy as a result of nerve damage to the muscles.
The suit was tested at the Karolinska Institute in Stockholm by the company which created it, on 117 patients with muscle spasms. They report that by wearing the suit three to four times a week (for 90 minutes a time) muscle spasms were reduced by 60 per cent and improved movement and flexibility was detected.
Tests showed a quarter of those studied were even able to stop using wheelchairs or walking aids after using the suit.