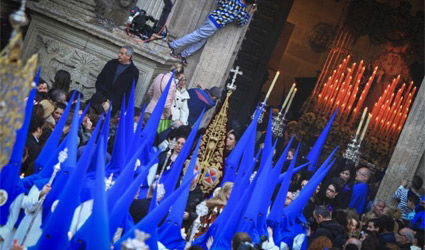 A MONTH after a religious brotherhood that plays a leading role in the Easter 'virgin procession' was victim of a €30,000 burglary police are still hunting for the perpetrators.
The National Police believe the thieves who broke into the Casa de la Hermandad de El Prendimiento in Almeria City are not unknown to them.
They got away with jewellery and other valuable pieces with an estimated value of €30,000 after climbing the exterior of the building to enter via a balcony.
After analysing the evidence collected at the crime scene and interviewing several brotherhood members and eyewitnesses, the police believe that the offenders knew exactly where the pieces were and what they were looking for.
The investigation remains open and the members of the brotherhood wait for news of the whereabouts of the missing pieces which formed a major part of one of the most important processions during Easter Week.
A senior member of the brotherhood explained that the sentimental value far outweighed the economic value, with some valuable and historic pieces taken, such as the figures of Christ and sashes of the virgin donated by the faithful as well as the jewellery. The brotherhood is now studying how to strengthen the security of the building.