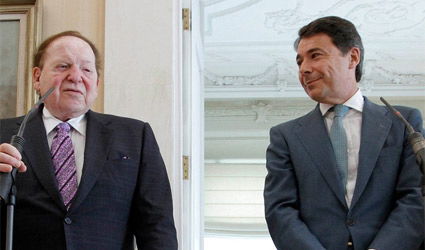 GAMING magnate Sheldon Adelson wants more than smoking concessions for his Eurovegas project.
Adelson has plans for a complex of casinos and hotels in the Madrid suburb of Alcorcon and the regional government is ready to comply with his demands.
As well as a suspension of Spain's strict anti-smoking laws inside casinos Adelson is asking for tax and labour law concessions, revealed sources close to negotiations.  His company, Las Vegas Sands (LVS) also wants the Madrid regional government to commit to infrastructure links for the Alcorcon site and is lobbying for credit-betting at the casinos. 
This is currently banned under Spanish law but allowed in the US as well as Asia where it has been linked to corruption, organised crime, money laundering and fraud.
If obtained, Adelson wants assurance that these concessions will remain in place for at least 20 years.
In return LVS would provide 240,000 direct and indirect jobs and is prepared to kick-start the project with an initial €9.8 billion investment.
The Madrid regional government is willing to grant every Adelson request.  It now remains to be seen if the national government is equally compliant.