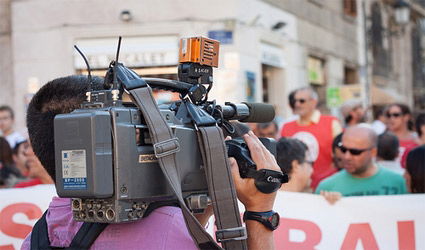 REGIONAL broadcaster Radio Television Valenciana (RTVV) finally silenced its signal after 24 years.
The RTVV website shut down and then Radio 9 went off the air.  At 12.19, the Canal 9 television channel was blacked out.  The commission appointed to wind down RTVV had tried throughout the preceding night to cut the signal but members of the works committee blocked access to the Burjassot (Valencia) centre. 
The technician engaged to do the job also walked out.
"I work in electronics but I'm not here to do this.  I've got a conscience," declared Paco Signes, a Gata de Gorgos resident, as he left to cheers and applause from the occupiers. 
The stay of execution was short, nonetheless, and three hours later an electrician simply cut off the power supply, seriously damaging the hi-tech equipment.
RTVV was shut down after the regional government, ordered by the courts to readmit redundant workers, could longer afford to maintain the broadcaster, according to Generalitat president Alberto Fabra.
"This is the most difficult decision I have ever made," Fabra admitted, "but being in government means making difficult decisions."