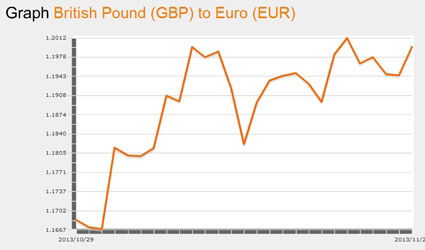 THE Great British Pound started November in a prime position as it pushed towards the key level of 1.20 against the Euro and a 2013 year high.
The move higher in the pound had been driven by economic data releases that far outstripped expectations from each sector of the UK economy with services, construction and manufacturing all performing strongly.
The knock on effect of UK data surprising to the upside, led to the markets raising expectations of interest rates for the UK sooner than the Bank of England had set out in their forward guidance policy. 
The Bank of England has been drumming home the expectation that rates will not rise until 2016, however the markets were now pricing-in a rate rise in mid to late 2015. The reason for this divergence is the fact that robust economic growth would help to trigger one, or a combination of several, of the Bank of England's knock outs whereby interest rates would need to rise. 
As we moved through the month the rally in the pound started to fade, in particular against the euro, and there were two reasons for this.  Firstly the UK economic data started to slow and new data releases that came in as expected or below led to a fall in the pound. 
Secondly the euro was also on a fantastic run and was garnering support from a weaker USD in light of the debt negotiation debacle and the expectation that the US Federal Reserve was not looking to imminently scale back its asset purchase programme.
The euro was the main beneficiary of USD weakness as it acquired demand as an alternative option outside the USD and economic data was showing a steady pace of recovery in Europe.
However the story flip-flopped once again following the interest rate meeting by the US Federal Reserve on October 30.  The FOMC was surprisingly optimistic and kept the door open for a potential taper of their asset purchase programme in December or January against the markets expectation of March 2014 at the earliest. 
This ruffled a few feathers and has also served to raise the pressure on the European Central Bank to do more to maintain liquidity in Europe should the US taper.
In the meantime we have once again witnessed good data from the UK with service sector PMI rising at its fastest pace in a decade and almost simultaneously the EU downgraded its growth forecasts for 2014.  It seems for the moment the pound is the favourite in the currency markets and there is a perception that the Bank of England will raise rates before the European Central Bank and potentially the US Fed, which is supporting the pound.
If the UK economy can maintain its strong run the pound has a real chance of pushing to the next level and possibly targeting the 2012 highs of 1.25 plus.