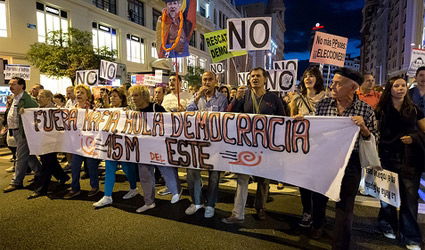 SPAIN'S international reputation has fallen according to details released by the Corruption Perceptions Index for 2013.
Corruption scandals have been hitting the headlines in Spain since the government introduced harsh austerity measures to deal with the recession.
Spain dropped 10 places in the Index, and is now ranked at 40 in the global index of perceived official corruption. The only country to lose more points than Spain was Syria; other countries who dropped were Gambia, Mali, Guinea-Bissau and Libya.
Many corruption charges in Spain were linked to the construction industry, with it being believed that politicians have been taking donations in exchange for building contracts and licenses. Former Treasurer of the current PP conservative government, Luis Barcenas, has declared before a judge that he regularly channeled donations from large construction companies to the politicians in what has become known as 'B envelopes'.
His Swiss bank account held €48 million which he has explained by showing his accounts sheets, with cash shown as going directly to the country's leaders.  Other corruption scandals have regularly been reported, notably that of Iñaki Urdangarin, the king's son-in-law, who has been charged with embezzling €6 million in public funds.
Although a law has since been introduced to allow for freedom of information, for the public to be able to see how public funds are spent, corruption scandals are still on-going.
The two countries perceived to be the least corrupt are New Zealand and Denmark. In Europe the country lowest on the list is Greece.