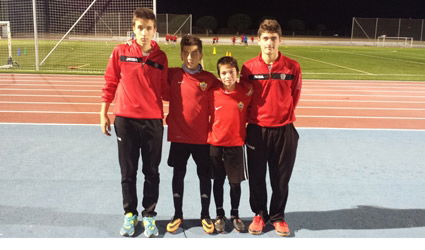 SIX children who take part in the football academy of Huercal-Overa are to train with UD Almeria.
In the coming weeks they will play in a friendly at the Campo de El Hornillo which will be attended by scouts of the club. A total of six children from various age groups have already trained with the Primera Liga side.
This has been possible thanks to the agreement that the town hall signed earlier this season with UD Almeria through which the most outstanding players will go for trials.
The sports department sends reports on the youngsters as requested by UD Almeria following the trials in which the youngsters have participated.
Arrangements are being made to hold friendly matches between Huercal-Overa CF and UDAlmeria in junior categories, although no date has been decided yet.
The scouts of UD Almeria will be casting an eye over the youngsters at the games.
The agreement was promoted by the town hall of Huercal-Overa through the sports department, in an example of the work being done in recent seasons to raise the level of the football academy of the town and unify everyone to work in the same direction.
The agreement has an initial term of two years which will benefit the children of Huercal-Overa Football Club. Huercal-Overa is the only town in the Levante area of Almeria which has an agreement with UD Almeria.