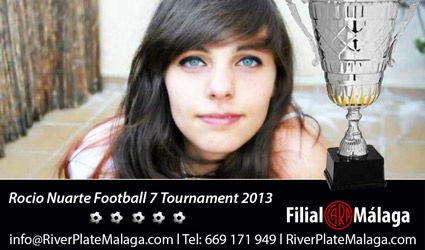 INTERNATIONAL football players are joining forces to help save the life of a 17-year-old girl who's fighting against a deadly type of cancer.
Malaga CF players Weligton, Fernando Tissone, Willy Caballero and Eliseu will be present at the Rocio Nuarte Football 7s Tournament to be held in Malaga on Monday.
Their aim is to help the family of young Rocio Nuarte raise funds for an experimental treatment they can't afford.
Rocio was born in Mendoza (Argentina), but came to Spain at a young age.
Ever since that moment she was embraced by the Costa del Sol community thanks to her sweet personality.
But her life and those of her beloved ones tragically changed when she was diagnosed with brainstem glioma, a cancerous tumour that affects the posterior part of the brain.
This tumour, mainly diagnosed in children and young people, is very difficult to treat due to complications in vital parts of the brain.
Life expectancy of people diagnosed with this tumour is usually short.
Without treatment, people could live just months after diagnosis, whereas those who receive one can survive up to three years.
Now Rocio's family and friends are putting all their hopes on an experimental treatment to help her fight for her life.
The Spanish health system doesn't cover the high expenses of this treatment, so the Malaga River Plate Football Club supporters group decided to organise the tournament to help.
The Rocio Nuarte Football 7s Cup Tournament will take place in the Malaga area of Teatinos, in calle Juan Robles from 10am on Monday.
So far 12 teams are expected to participate in the tournament, although entry will be open until tomorrow (Friday) for €3 per player.
Entrance to the stadium will cost €1. More information: www.riverplatemalaga.com or call 66 9171 949.