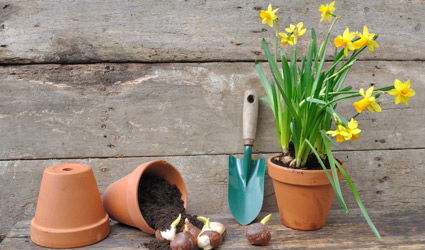 Last week we looked at the benefits of bulbs and bulbs for the autumn and winter. This week we continue the story.
For late spring and summer.
Summer bulb displays can be not only colourful but exotic.
For us nothing can beat;
a patch or pots of tall waving blue agapanthus,
tall multi or single flowered specimen lilies,
a pot or patch of Peruvian lilies, alstroemerias.
a collection of interestingly headed alliums.
tall vivid coloured crocosmia (montbretia) in a mixed bed or growing as a clump through stone chippings.
Patches of fritillaries brightening up glades in pine tree gardens.
Cannas can be a success but they need copious watering to stimulate flowers. If you are a gladioli fan try the more dainty species rather than the large headed varieties. We believe that they fit better into Spanish gardens. If you like to grow the larger flowered varieties for cutting we suggest that you grow a line alongside the vegetable patch.
For the autumn.
Autumn flowering crocuses, the saffron/azafran varieties and the lily related colchicums are the most typical.
For Christmas, winter and early spring.
In the garden patches of crocuses and daffodils can even be out for Christmas and the New Year if planted early in warm areas. In the mountains they will be later. Freesias and tulips will follow.
For the naya and patio plant up pots of amaryllis, cyclamens, hyacinths, grape hyacynths and daffodils.
Some success factors
Plant in well draining soil or compost in pots. Crushed seashells in a peat and leaf mould mix for pots and a well draining high in humus soil in the garden. Within the garden improve the drainage under each bulb by placing course sand, grit or crushed seashells at the bottom of planting holes.
Remember where you have planted bulbs in mixed beds so that you do not slice them in half or spike them when working the bed during the bulbs dormant season. If forgetful clearly mark with a weatherproof label.
If the weather is very dry, water prior to and during the flowering period to stimulate and prolong flowering.
Give naturalised bulb areas a top dressing of bone meal or other organic fertiliser in the autumn.
Don't be too hasty to cut back stems and leaves after flowering. Let them dry back naturally, the sap draining back into the bulb to stimulate growth for next year. Cut back when the leaves have become brown and are becoming easy to pull off.
Buy healthy non-diseased bulbs.
Plant up bulbs as soon as you receive them so that they do not dry out. They will have been stored by the grower under ideal conditions. This is not always maintained in retail nurseries so purchase as soon as they have bulbs on display. The final remnants in the boxes two or three months later may not be good buys.
Dust bulb areas with slug pellets, especially during the dry summer, as slugs and other earth pests can search out bulbs as a source of moisture.
 Once you have experienced a good show of bulbous plants we are sure that you will want to expand them for the following year!
© Dick Handscombe  www.gardeninginspain.com  November 2013.