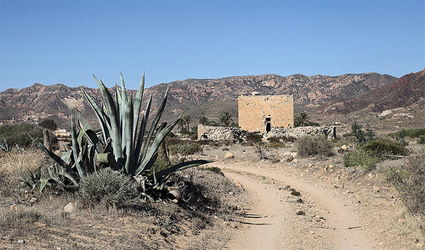 MEMBERS of Macael town hall visited Sir Ridley Scott in the town of Rodalquilar on the last day of filming of Exodus to present him with a personalised mortar and pestle made from Macael marble.
Raul Martinez, mayor of Macael said: "He loved the gift, and told me personally that he loved working in Macael in a fabulous natural setting and it had been very easy. He was surprised by both the natural environment as well as our marble."
Martinez also commented that "the meeting was very pleasant and that the intention of the government team was to thank him for counting on our landscapes for part of the shooting of the movie. It contributed to the employment of people and the economy of the town.
"The film will show the world the beauty of the quarries of Macael, which portrayed ancient Egypt."