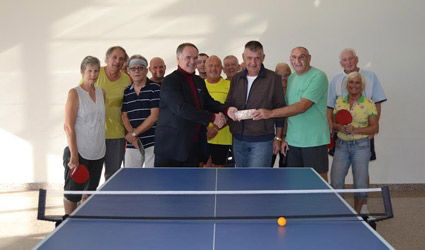 A DONATION of €500 has been made on behalf of the Brian O'Reilly Table Tennis Group to the Stroke Support Group in Torrevieja.
Members of the table tennis group which meets every Friday at the Social Centre in urbanisation La Marina were joined by Councillor Jeff Wiszniewski in presenting the cheque to President of the Stroke Support Group, David Williams: "We look after carers as well as people that have had a stroke as they need just as much support and a bit of respite for them is crucial."
Table tennis player James Cracknell said the charity was chosen as they have supported his wife after she had a stroke. The club will continue will continue to raise money for various local charities in honour of Brian O'Reilly who founded the club and bought all the equipment himself. Following his sudden death, according to his wishes, members continue to pay fees for charitable causes and this has been the first, of what they hope to be many, donations.
For more information on the table tennis club call James on 965 073 907. The Stroke Support Group can be contacted on 966 715 174.